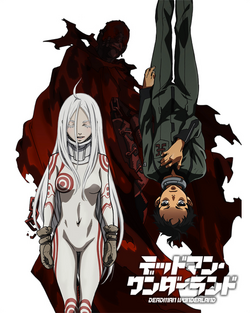 An anime adaption of the manga of Deadman Wonderland was made by the studio Manglobe and directed by Kōichirō Hatsumi. The anime premiered on April 16th and ended July 2nd. It was broadcasted on Television Kanagawa and GBS, but other TV-stations soon followed. Crunchyroll has also streamed the entire anime from its website. The site has hosted Deadman Wonderland on Saturdays. FUNimation has licensed the anime in the U.S.A. and Madman Entertainment has also released the series in Australia and New-Zealand.
It was confirmed that with the release of volume 11, an original, unaired anime DVD will be included. It tells an original story, loose from the manga, with an exclusive character, Keigo Ugashi, and with an exclusive setting, outside of DW.
The anime follows the manga closely, with minor changes and excluding some characters, but for the most part, the studio censored the most offensive images, such as organs, human flesh, and transgender characters.
List of episodes
Main article: Episodes
External links